Vancouver Washington Travels 2005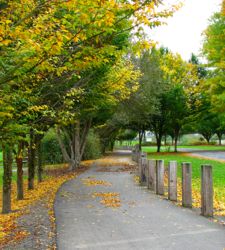 Vancouver is on the Washington side of the river, across from Portland. And like Portland, there are a lot of good parks near by. On the west is Vancouver Lake, east is Lacamas Park, North is Salmon Creek, South is Marine Park. Each is big enough for a good hike or short bike ride, and all are popular picnic areas.


The Footpath at Vancouver Lake


Round Lake and Lacamas Park
East of Vancouver is the town of Camas and the scenic gem of Lacamas Park. This park has it all: a lake, a river, cliffs and thick forest - for loads of hiking, biking, fishing or picnicing fun.


Salmon Creek Park
On the north side of Vancouver is scenic Salmon Creek. This 3-mile park follows the creek through marsh lands and ponds, and is a good place for a hike or bike ride.


Wintler and Marine Parks
Wintler and Marine Parks are only a mile apart on Vancouver's south river front. They are both popular beaches and the paved path connecting them is a great place for a stroll or bike ride.


Vancouver Lake Wildlife Area
West of Vancouver is the Vancouver Lake Park and Wildlife Area. The marshy lands surrounding the big lake make a nice place for bike ride, and the park is a scenic and remote picnic and swimming area. The six-mile access road is a great ride with the river on the left and the marshlands on the right. The light traffic makes this seem a lot more remote than it really is.


Portland Riverfront
Portland has set aside a huge area of river front as a scenic park. Covering both sides of the river, it has an assortment of manicured parks, wild parks, open mall areas, and museums. Something for everyone.