Portland Oregon Travels 2003

In 2003 I was still living in Colorado but I made a trip to Portland to visit friends, see the sights, and see if I wanted to move to the area. Eight months later I sold my house and moved to the Great North West. There's plenty to see, including: A tour the falls in the Columbia River Gorge. Climbing 800 foot Beacon Rock. Hiking the riverfront in downtown Portland. Taking a drive up Mt St Helens.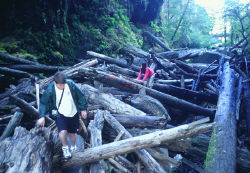 Navigating the Log Jam in Oneota Gorge
Touring the Columbia River Gorge
The Gorge of the Columbia River is an area loaded with huge waterfalls, including the 600 foot Multnomah Falls and Oneota hidden in a slot canyon. We'll follow the old river highway for a scenic tour of a half dozen of them.
Climbing 800 Foot Beacon Rock
On the Washington side of the Columbia River Gorge is 800 foot Beacon Rock, standing like an upright egg right on the shore. A scary footpath goes right up the shear south side to the rocky view point on top.
Hiking around in Portland
The long park that fronts Portland's riverfront is a scenic place of kids, bicycles and boats, and an enjoyable place for an afternoon.
Taking a Drive up Mt St Helens
About a hundred miles north of Portland is Mt St Helens, the volcano that blew in 1980. The park road winds up through the blast zone to an observatory two miles in front of the crater. The scenic drive and hike is also a great lesson in geology.
The Spruce Goose Museum at McMinville
The Air Museum at McMinville has a great assortment of planes, mostly dating to World War 2. These include a B-17, the Spruce Goose, and even an SR-71.