Malaysia Travels 2002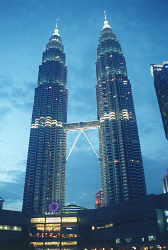 In September I made a second trip to Penang Malaysia to visit friends. Chad and I just got layed off, so he made a two month trip to visit Yen, and I made a two week trip to visit them both. This was my second trip, I made a business trip two years earlier to set up my production line, which is how I got layed off. &nbsp This adventure included:
Sightseeing in Hong Kong.
Sightseeing in Penang Malaysia.
Jungle treking in Taman Negara National Park.
Snorkling at Palau Payar island.


The Petronas Twin Towers in Kuala Lumpur -->


Sightseeing in Hong Kong
My flight over included a five hour layover in Hong Kong. This spectacular town is loaded with sights and things to do.
Sightseeing in Penang Malaysia
Penang Island is on Malaysia's north west coast and is a scenic blend of rural and urban Malaysian life.
Kuala Lumpur and Taman Negara
Taman Negara, Malaysia's most famous National Park, is just east of Kuala Lumpur.
Jungle Treking in Taman Negara National Park
Big story of our journey to Taman Negara, a huge area of pristine rainforest cut by only a few trails. Getting there was half the adventure.
Snorkling at Palau Payar island
A little north of Penang is the tiny reef island of Palau Payar. After a 90 minute ferry ride we spent the afternoon at this scenic spot.