Malaysia Travels 2000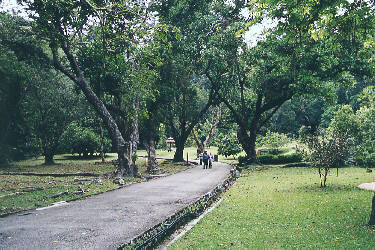 In September I made a business trip to Penang Malaysia. It wasn't a vacation, but I was able to get out and see some of the sights. Penang Island is 10x20 miles and five miles off the northwest coast of Malaysia. Though I didn't get to the mainland, there was plenty to see and do on Penang. Malaysia in general is a great place for a vacation. It's a modern country with a decient standard of living and friendly people. It's one of the few countries in the region with good infrastructure - good roads, good services, good food, low cost, and low crime. Included here are the photos and story from the week I was there.


Penang Botanical Garden


Views of Penang Island
My hotel was a swanky place with a twelve story atrium and a garden and pond flowing from outside. Also a few island views from the hotel and Komtar, the tallest building on the island.
Kek Loc Si Temple
In central Penang is the Chinese Temple, Kek Loc Si, with spectacular archetecture and carvings.
The Botanical Gardens
Also in central Penang is the botanical garden. With hundreds of types of trees, ponds and a river, this place was loads of fun for a whole afternoon.
The Letter Home
For a written description of the island, here is the letter that I sent back to my work group in Colorado.